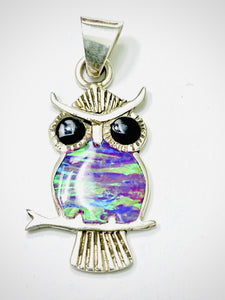 OPAL OWL (Choose From 4 Different Colors)
This Beautiful Opal Owl Pendant is Sterling Silver and comes with a FREE sterling silver chain. It ships FREE and comes in 4 colors:
Purple Opal (as shown)
Blue Opal 
White Opal
Green Opal
It is approximately 1 inch without the bail and 1 1/4 inches with the bail.
Sterling silver  and opal owl pendant with 18" chain and free shipping.