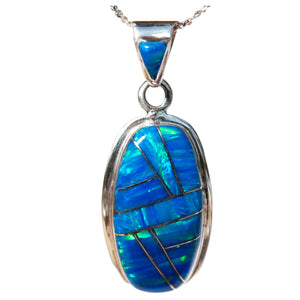 11PD - Oval Shaped Blue Opal Pendant with FREE Sterling Silver Chain- Perfect Elegant gift for Women, Birthdays, and Weddings
The art of inlay demonstrated beautifully in this pendant inlaid with many pieces of opal. Each stone is set in a different direction to send the fire in all directions. This technique gives each piece intense fire in a way that can only be found at TheInlayArtist.com
💍 MADE WITH LOVE 💍
This unique and heartfelt pendant is beautifully packaged and ready for giving. Makes a sentimental surprise for any awesome lady. Great gifts for Mom or Grandma on Mother's Day, anniversary, birthday, or wedding celebration.
💍Details 💍
 Always hand made, never casted
FREE Sterling Silver Chain
VERY HIGH QUALITY
Caribbean Blue Opal (the darkest, richest shade of blue opal)
Approximately 1" (1 3/8" with the bail)💍Shipping 💍
FREE SHIPPING
💍Quality Guarantee 💍
To Insure your Complete Satisfaction, We offer exchanges only and a 30 day warranty against faulty workmanship. You must email us within 30 days of purchase to activate the warranty claim. You are allowed to take more than 30 days to send items back for exchange or repair as long as you emailed a claim within that 30 day period.
Matching earrings sold separately
PD11-bop