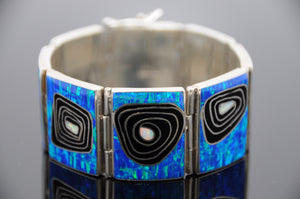 Our Statement Piece: THE CARIBBEAN BLUE OPAL SWIRL INLAY BRACELET
Custom made for our art shows, this statement piece features seven 1 inch square sections each inlaid by hand with a white fire opal center surrounded by a swirl of black Jet Stone encompassed by traditional blue opal and set in sterling silver.
7.5"L x 1"W x 1/8"
This beautiful bracelet is inlaid with Caribbean Blue Opal. There are three shades of blue opal that occur in nature and the Caribbean Blue is the darkest, richest blue of them all. It stands out so beautifully against skin that it generates compliments every time it is worn.
The art of inlay demonstrated beautifully in this bracelet is inlaid with many pieces of opal. Each stone is set facing a different way to send the fire in all directions. This technique gives each piece intense fire in a way that can only be found at The Inlay Artist. It features a double closure on the clasp to ensure from loss.
💍 MADE WITH LOVE 💍
This unique and heartfelt pendant is beautifully packaged and ready for giving. Makes a sentimental surprise for any awesome lady. Great gifts for Mom or Grandma on Mother's Day, anniversary, birthday, or wedding celebration.
💍Details 💍
Always hand made, never casted
Opal and Sterling Silver
VERY HIGH QUALITY
Approximately 1" per section
Because it is our own design, it is available only through The Inlay Artist
💍Shipping 💍
FREE SHIPPING
💍Quality Guarantee 💍
To Insure Your Complete Satisfaction, We offer exchanges only and a 30 day warranty against faulty workmanship. You must email us within 30 days of purchase to activate the warranty claim. You are allowed to take more than 30 days to send items back for exchange or repair as long as you emailed a claim within that 30 day period.